March 22, 2017Meet Lee!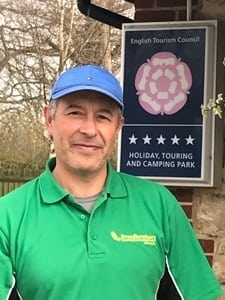 Last week we heard about all about Sally and her role at Broadhembury. This week, we hear from her partner-in-crime, Lee!
Lee, tell us a little bit about life before Broadhembury!
After school I began a four year apprenticeship in the print trade as a high-end system operator and remained in that industry until 2007. During this time print went through a huge amount of change and I realised that, with no dependents and a relative degree of financial security, it was the right time for a total career change. I'd always had a keen interest in wood, and DIY projects, so carpentry seemed a good choice. So, I went back to college, the oldest by far! I also sought out a very well respected local carpenter and asked if I could work with him to gain practical experience. We worked well together and embarked on several restoration projects; one of these featured on Channel 5's "Build a new life in the Country" – this project involved converting a 500 year old, timber-framed building in the centre of Canterbury to a residential dwelling.
Going back to scratch wasn't easy, but I do think changing career so completely helped when I then made the change to Broadhembury.
We know that you run all things outside! Tell us a little bit about the tasks this covers and a typical day at the park for you.
I cover all park maintenance projects; manage our small team of 'outdoor workers'; stock control; gas; meter-readings; oversee waste-management; liaise with any external trades we are bringing in; am the first point of contact for any campers' queries with their pitches, or static caravans; deal with our technological requirements, CCTV and security; and, also our print design and literature. I should also add, that if we are short staffed, I clean too (unlike Sally!).
Typical days are rather few and far between and also hugely different according to the season. The summer months are full of pitching, camper interaction, mowing, cleaning and immediate responses to a maintenance need (we wouldn't be doing any scheduled maintenance once the season starts). But in the low season, a typical day might be as follows:
08.00: Meeting with Wardens re any issues that have cropped up the night before. First thing, we also check the boilers, water temperature and pressure in both facilities every morning to ensure everything is as it should be before the day begins.
08.30: Direct the staff according to what each of them is doing that day – this requires a degree of flexibility due to the weather.
09.00: It's out onto the Park; at this time of year we're all very focussed on finishing the various maintenance projects to get ready for the upcoming season.
10.30: I'll try to get back into the office around this time; it's also an opportunity to catch up on some emails. We're improving some signage around the Park at the moment, so I might get some of those proofed and approved during this time.
11.00: Back outside to continue with the various projects and to check how the men are getting on with whatever tasks they're tackling. I should probably add that on a typical day I would also likely been radioed once or twice by now; by our cleaner (Louise) to say that a light bulb needs my attention, or a tap is dripping; or by Reception because a camper needs a hand; or by one of the maintenance team because some equipment needs fixing! Interruptions are a regular part of my day, but at least I never get bored!
17.00 We're fortunate we can get away earlier in the winter months and I tend to leave around this time if possible. First though, I'll meet back up with the guys in Reception and discuss any changes to the plan for the coming days, what we're hoping to achieve, and what effect the weather/other external factors might have.
I usually get some work done at home in the evenings too; it's sometimes easier to focus on things once I've had a break away.
Being a carpenter in your previous life must help a great deal with your day-to-day duties on the park. What new skills have you had to learn to enable you to manage your side of the business?
Managing people to the extent I do now was new to me. Managing the team, whilst also meeting and greeting new campers every day and responding to whatever needs they may have, has involved skills I either didn't have before, or didn't know I had!.
Knowledge-wise, I didn't know anything at all about caravans or tents, or the industry, so that's been a really steep learning curve. At the same time I also needed to learn as much about the Park as possible; what was done when (i.e. hedging), where 'underground' services were, how the systems worked (those are numerous, the rainwater harvesting system for the Beeches, the hot water systems on both the facilities, etc. etc). We can laugh about it now, but lots of this had to be gleaned from Keith (Sally's Dad) whilst he was trying to recover from major heart surgery in Kings Hospital. Sally would go up to London to visit him with a list of questions in her handbag and the aim of getting them answered for me before she had to return home (or Keith fell asleep!).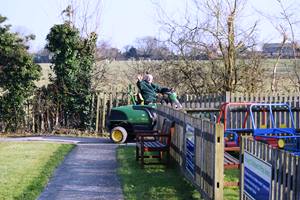 How do you manage the health and safety aspects of the park?
Health & safety is a big issue for us on the Park, in respect of our campers and our staff; it's an area in which we need to be constantly vigilant. Sally ensures we have the appropriate insurances in place and will contact the insurers directly quite frequently to clarify any matters we're not sure about. Jenny (Sally's mum) is officially our 'Health and Safety Officer' and will perform visual checks on all Park aspects, reporting back anything that needs attention immediately. In addition, we have daily checks for the cleaning which also double up as Health & Safety checks.
In respect to our staff, a lot is common sense – and I have been known to get very cross if someone is not wearing a high-vis or carrying a radio!
How does the weather affect things for you?
The weather is a huge issue in our industry; it affects us in terms of what we can achieve project-wise on the Park, what the Park looks like, how happy the campers are, and what level of bookings we will take. Fortunately it's something we end up being quite pragmatic about, but it's still a shame when it messes with our plans – especially if it means we can't achieve something we have said we will.
What is the best thing about owning your own business?
The best thing is being able to achieve the things we want to with the business. If we think something is a good idea, and financially viable, we're able to just go for it with no need to seek approval from others. Leaving early on Thursdays to watch Lewis play in his matches, is a pretty special bonus as a Dad too!
What is the hardest thing about working in a family business?
Obviously I didn't grow up with the business like Sally did, sometimes it can be rather 'all consuming' and that takes some getting used to!
Also, going home with the person that has annoyed you at work that day isn't always an added bonus! Most of the time we work brilliantly together, but learning when to stop talking about work, and when to compromise, are two things that we have both had to learn pretty quickly (although some of the staff, and our children, may report we are both still learning!).
What 3 words best describe Broadhembury for you?
That's a bit unfair because Sally has already taken three good words (tranquil, friendly, quality); so I would add…constantly evolving, fun and challenging (Ok, I realise that's 4, but I did have to go second!).