People holidaying without children, are allocated pitches on the Adults' Meadows. This lovely, tranquil meadow area offers a relaxing, quiet pitch away from the bustle and excitement of family holidays. The Adults' Meadows is serviced by its own separate award winning facilities: 'The Beeches'.
Positions on the Adults' Meadows have electricity as standard (16 amp supply). We also have hard-standing and fully-serviced positions.  Our standard grass and hard-standing positions are 10m x 10m.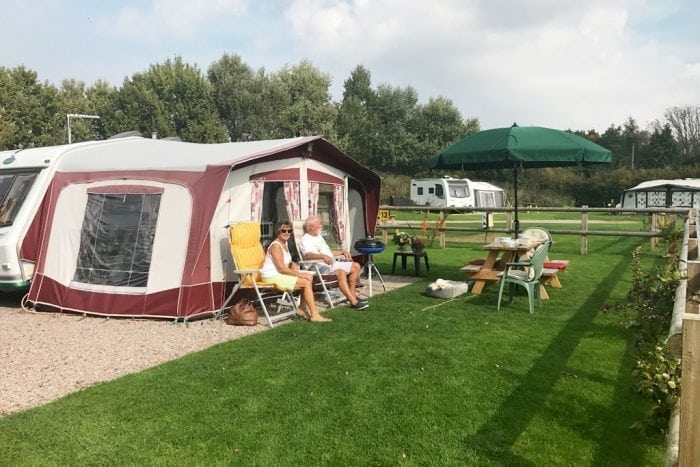 Our fully-serviced positions are individual areas, 12m x 12m (39ft x 39ft), with a gravel hard-standing of 8m x 5m (26ft x 16ft).
They include:
Parking for vehicles alongside your caravan;
Individual 16amp Electricity Supply using a standard blue round plug;
Fresh water with standard 'hoselock' connector;
2 x 32mm waste water away connections;
1 x 70mm hopper pipe sewerage connection.
You also have use of your own picnic table whilst staying on a serviced position.
Couples may like a pitch on our "Top Meadows". These meadows are the most tranquil and peaceful area on the park. Surrounded by arable fields and beautiful trees, in the evenings you may be rewarded by seeing varied wildlife from rabbits, an occasional hare, badgers and too many different types of bird to mention. If you come during May, you may hear the nightingales singing. Lighting is kept to a minimum, and starlit nights are something special to see. Sunsets over 'The Meadows' are very special.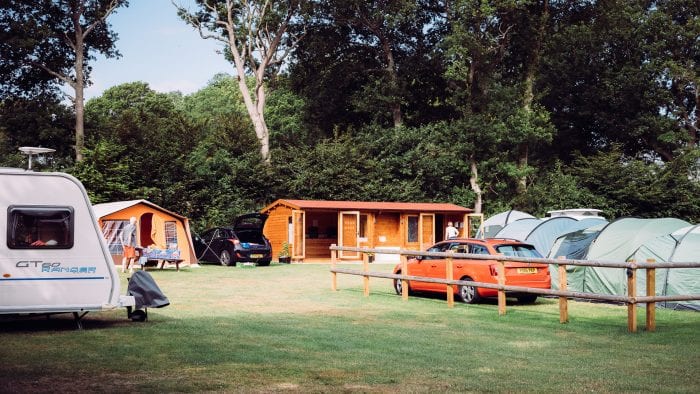 Visiting with an RV / Large Unit
We can accommodate RVS and very large units on the Adults' Meadows, however, we recommend that visitors with large RV's phone in advance for availability, due to a limited number of suitable pitches. We have a fully serviced drive on/drive off motorhome station available for your convenience.
Late Arrivals Area
Arriving out of hours is not a problem at Broadhembury, as we have a secure late arrivals area put aside for temporary overnight stays. This area has electricity hook-up, water and can accommodate caravans, motorhomes and RV's of any size.
Please note use of this area is by prior arrangement only.