On our Family Park, excellent amenities and play facilities are provided with babies and children in mind.
A sunny pitch, or some shade; near the main facilities or in a quiet corner; a maxi pitch for your big tent or caravan or a modest one for a 2 man tent, we will always do our best and try to accommodate your requirements. Whatever your choice, you will be offered a well tended pitch, some with subtle low level lighting, surrounded by trees, shrubs and flowers.
When you make an advanced booking you will be invited to chose a pitch according to the size of your tent, caravan or Motorhome, and whether you have a gazebo etc.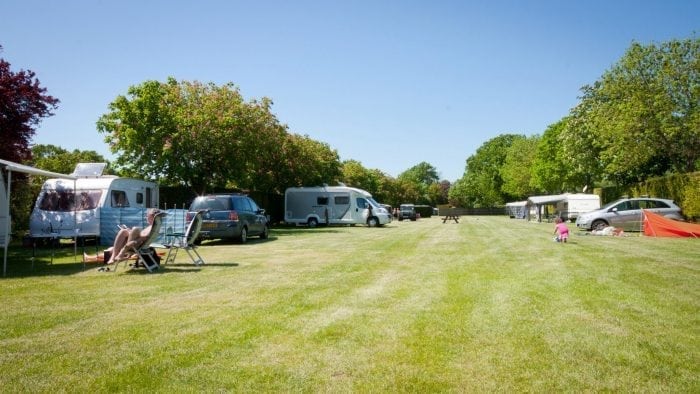 Choosing the pitch to suit you – Grass Pitch
Most units will fit comfortably onto our Standard Pitches. These are for units of a maximum size 7m x 5m (including guy ropes), and have 16 amps of electricity. You can choose either a grass pitch or an all weather (hard-standing) pitch.  We also have some standard pitches without electricity hook-up.
Our Maxi grass pitches are for if your tent, caravan or motor-home is larger than 8m x 8m, or if you simply prefer the luxury of some extra space. All Maxi pitches have electric hook up.
Maxi pitch – For unit maximum size 11m x 10m
Gazebos – You are most welcome to bring a gazebo. Using a gazebo will provide extra convenience and comfort, and we do not charge extra for these. However, your gazebo must fit within the confines of your pitch, you may therefore like to consider upgrading to a larger pitch if you are going to use a gazebo/kitchen tent.
Hardstanding Pitches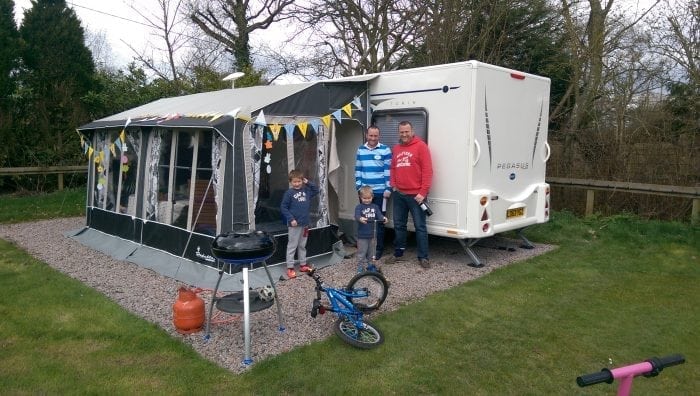 We have 10 hard-standing pitches on our Family Park. Designed for convenient use all year round, these pitches run directly off of our small park road.  Some of these pitches are only suitable for units of 7m or less (total 'shipping' length), we will therefore ask you to specify the length of your caravan or motorhome when booking. These pitches are in high demand when the Grass positions are out of use, so we strongly recommend advance booking.
Visiting with an RV / Large Unit
We can accommodate RVS and very large units on the Family Park. However, we recommend that visitors with large RV's phone in advance for availability, due to a limited number of suitable pitches. We have a fully serviced drive on/drive off motorhome station available for your convenience.
Late Arrivals Area
Arriving out of hours is not a problem at Broadhembury, as we have a secure late arrivals area put aside for temporary overnight stays. This area has electricity hook-up, water and can accommodate caravans, motorhomes and RV's of any size.
Please note use of this area is by prior arrangement only.