November 19, 2018AA Campsite of the Year (South East) 2018-2019 Winner!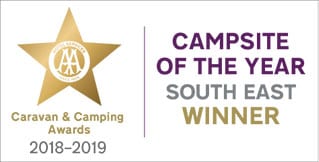 Broadhembury is delighted to have won AA Campsite of the Year 2018-2019 (South East).  It is an award that has previously alluded us and we couldn't be happier to finally get it!
To be recognised amongst so many other fantastic Parks is a great accolade and we are hugely grateful to our whole team who make Broadhembury such a great place to visit.  Big THANK YOU to you guys!

Whilst talking of awards, we are also extremely pleased to have been given a Platinum award for the Loo of the Year 2019! Having refurbished the toilet facilities in our Hollies amenity building on the Family Park earlier this year, we are over the moon to receive this award!